Helion is one of the nation's fastest growing and largest Information Technologies Managed Services providers. We deliver unique expertise and value to automotive and heavy trucking dealerships across the United States. Our teams specialize in help desk, system administration, onsite services, networking and project management but most importantly they have a desire to grow and succeed. Helion is an exciting place to develop your skills, take care of client needs and be part of a dynamic, fun, hardworking team.
Paid Training
Helion has partnered with Storm Wind to provide all of our Technical Team Members a complimentary paid license and 2 hours of paid training every week.

All of our Team Members in Desktop Support and Systems Support have two hours of paid training scheduled each week in our Learning Center. This time is for watching over 400 videos on the Storm Wind Training platform that prepare individuals for certifications like: A+, Network+, MTA, MCSA, MCSE, CCENT, CCNA, CCNP, PMP and many more. Helion also reimburses individuals for passed, applicable examinations!
Career Pathing
We provide a structured pathway for your career.
Everyone from the entry level Help Desk Technician to the most tenured Systems Administrators has the opportunity to move up and offer positive change towards the growth of our organization. Additionally, our "Level" system in Desktop Support keep our Help Desk Team motivated with quick promotional opportunities that include compensation increases, technical certifications, exposure in leadership and advanced troubleshooting environments.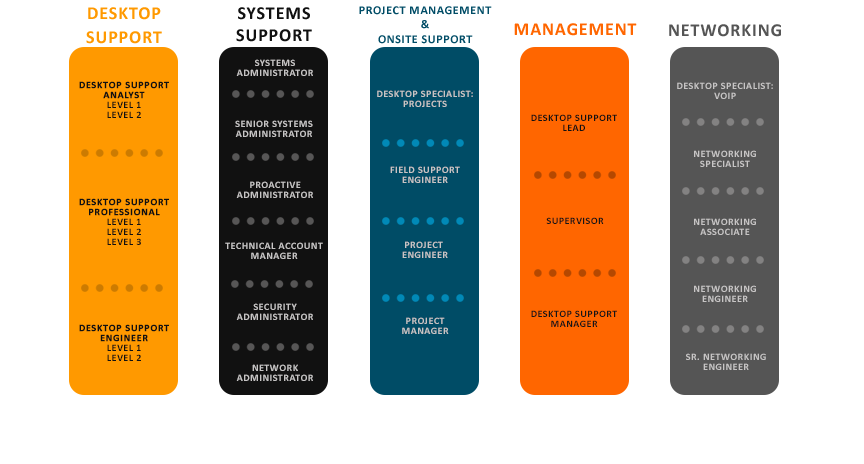 Fringe Benefits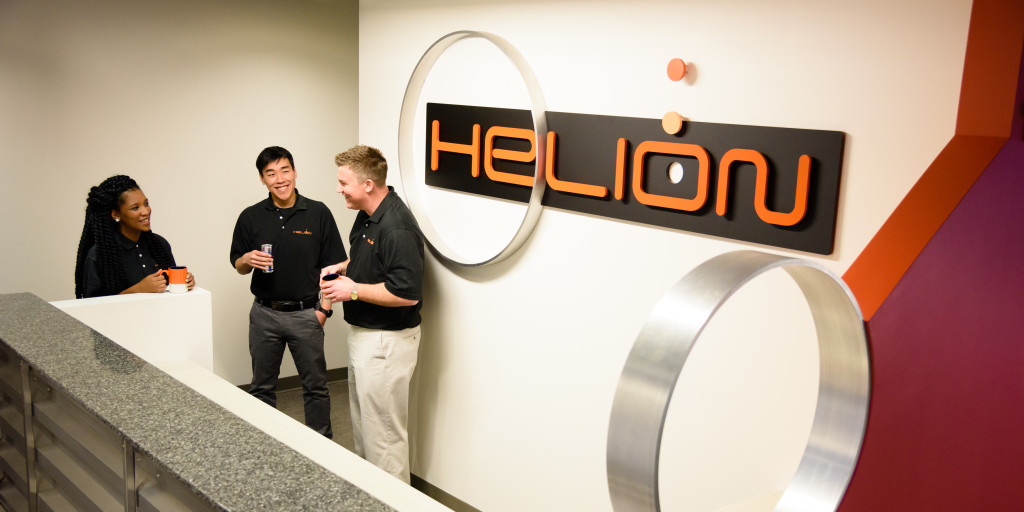 Helion offers all of its Full Time employees a comprehensive benefit package which includes:
-100% Paid Health Insurance for individuals with an affordable deductible for In-Network care and eligibility the 1st of the month after you start!
-Company funded HRA to assist in deductible costs
-Flex Spending Accounts for Health Care & Dependent Care costs
-Dental & Vision Coverage
– 4 weeks of Paid Maternity Leave for new Moms, and 1 week Paid Paternity for spouses
-100% Employer Paid Life Insurance
-100% Employer Paid Long Term Disability
-Retirement Plans including a 401K & Roth IRA with annual company match
-Paid Holidays
-Paid Time Off for Sick, Personal & Vacation purposes
-Supplemental Life Insurance for Self, Spouse and Dependents
-Social Events like BBQ's, Holiday Parties, Food Trucks and other Fun gatherings to celebrate our wins
-An impressive office space with remote offices in Garland, TX and Joplin, MO
-Certification Reimbursement in study programs like MCSA, MCSE, CCENT, CCNA, CCNP and VMWare.